(First published on August 24, 2019)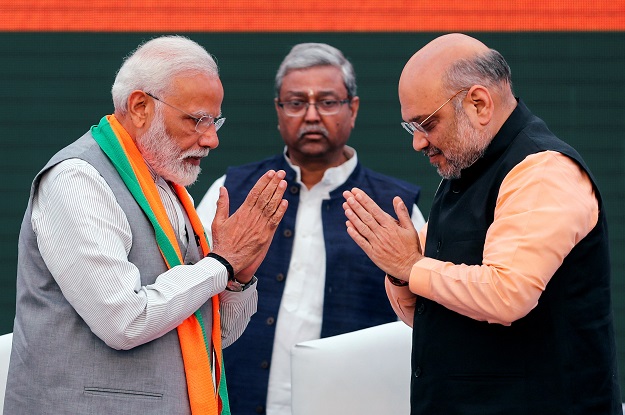 Indian Prime Minister Narendra Modi and Home Minister Amit Shah, greet each other. Photo: REUTERS/FILE
---
On August 21, officers of India's Central Bureau of Investigation (CBI) climbed up the walls of P Chidambaram's house and arrested him. Mr Chidambaram, 73, served as a union minister during the Congress party's rule. While he has remained highly critical of the BJP's rule and its policies of late, he was India's Home Minister when the current Home Minister, Amit Shah, was apprehended from Gujarat by the very same CBI. Vendetta? Technically speaking the CBI is not under the Indian Home Ministry. It comes under the purview of the Ministry of Personnel, Public Grievances and Pensions, but since this portfolio lies with the Indian Prime Minister Narendra Modi, and he and Amit Shah are virtually inseparable, it amounts to the same difference really.
It seems that the testimony of Indrani Mukerjea, a co-accused in the INX Media money laundering case, was the reason behind his arrest. Yes, the very same Indrani Mukerjea who was found guilty of killing her daughter a few years earlier. The true nature of Mr Chidambaram's alleged crimes is still not known. But the fact that he is a prolific writer and a strong critic of the BJP government cannot be ignored.
Prannoy Roy, the co-founder and co-chairman of NDTV, was stopped by the CBI from leaving the country along with his family at the airport. He had plans to celebrate his wedding anniversary abroad, and his daughter maintains that the charges against him are trumped up. NDTV is one of the few media outlets which still dares to exhibit some measure of independence from time to time. The fresh charges against Mr Roy are known. He is accused of violating the foreign direct investment rules. This comes from a government which gave carte blanche to anonymous foreign donations to political campaigns which ostensibly benefited the ruling BJP.
A first information report was recently filed against Shashi Tharoor, another former Congress minister and a vocal critic of the incumbent party, for calling Modi's India a "Hindu Pakistan". Subsequently, the warrant against him has stayed but the sword of Damocles hangs by a thread.
Shah Faesal, a bureaucrat-turned politician of Kashmiri origin, was apprehended in New Delhi when he was about to leave the country and returned to Kashmir where he is being held captive. He had given an interview to BBC's 'HARDtalk' where he had severely criticised the Indian government's shenanigans in India-occupied Kashmir.
What is common in all of the above? Criticism of India's incumbent rulers. And the CBI in two out of the four cases.
The CBI was not as craven as always. Until this January, Alok Verma was its head. Verma's misfortune began, according to Rahul Gandhi, when he was about to begin the investigation into Narendra Modi's role in the Rafale corruption scandal. Briefly, at the start of this year, Verma was restored by the Indian Supreme Court. But he was sent packing once again by Modi. Very shortly, a sexual harassment case against the incumbent Chief Justice of India surfaced after which he lost his will to fight. Hence, after a protracted struggle for its independence, the Indian judiciary including the apex court surrendered to Modi's authoritarianism. This systematic dismantling of the Indian judicial and investigation system has been going on since Modi came into power.
In 2015, Special Public Prosecutor Rohini Salian handling the Malegaon blast case against the Hindutva terror outfit Abhinav Bharat caused a minor stir when she claimed that she was asked by higher-ups in the National Investigation Agency to go slow. One of the co-accused, Sadhvi Pragya Thakur, is now a BJP MP. Another co-accused, Lt Col Prasad Purohit, has reportedly resumed his commission. All of this would suggest that what Ms Salian said was correct.
And saffronisation of the army with Col Purohit re-joining with honour is complete. The incumbent Indian Army Chief, General Bipin Rawat, was appointed by the BJP against the longstanding seniority principle where the senior-most general assumes the post. General Rawat was second on the seniority list then. Under his watchful gaze, his own force has been deeply radicalised. He along with Amit Shah, Narendra Modi and Ajit Doval form the core group that has ensured the systematic dismantling of India's secular, federal, democratic, constitutional and institutional infrastructure. A country of 1.3 billion souls, once a shining beacon of hope and democracy for all post-colonial states, seems to have been lost to infamy.
Just like former foreign secretary Subrahmanyam Jaishankar was rewarded with the External Affairs Ministry for destroying his department, and General Rawat's predecessor General VK Singh was with a junior ministry, word has it that the incumbent chief will be promoted to the newly-minted post of Chief of Defence Staff.
We have seen the demise of the Indian Election Commission during the elections when despite Modi's visible provocations the EC refused to see any foul play. Indian demonetisation and other surgical strikes on the economy have destroyed the chances of early recovery. India is quickly becoming an empty shell which will take down most of the region with it when it falls. Indian media is more controlled than the Chinese virtual newscaster who reads the script as it is typed.
But how did Modi's core group achieve all this? Partial credit goes to the double standards of the Indian liberals and a thorough campaign of violence, intimidation, and fear and crony capitalism. The description of liberal double standards is used because Pakistan, Kashmir and Muslim bashing are subjects where Indian moderates and liberals lose all volition. The saffron brigade hacked the Indian mind through this route. Rest is self-explanatory.
The problem with these authoritarian types is that when the damage done by them is revealed they find someone else to blame and attack. The leaders of the BJP and the RSS now constantly talk of invading and colonising Pakistan and most of the rest of South Asia by 2025. As this campaign began with the unconstitutional colonisation of Kashmir, the world community remains eerily pliant and complacent. Since India still has remarkable soft power, its insistence on bilateralism with Pakistan is honoured as a form of political correctness. Even when the Indian Defence Minister has publicly indicated his country may give up the no-first-use nuclear pledge, it hardly had any effect.
But then guess what? Appeasement was also a form of political correctness. Persecution of Jews was also initially deemed an internal matter of Nazi Germany and Austria. The invasion of Czechoslovakia was a bilateral issue. As 10 million Muslims are incarcerated in their homes in Kashmir, without food, supplies, essential medicines, communication or transportation you may shrug your shoulders and say they are only Muslims. But that is exactly what was said about Jews when they were being persecuted. So, when we all are dead, like the six million Jews, do not show false compassion, just do something to save your own homes, because this fire will reach there too. And remember the four men who destroyed the future of civilisation.
Published in The Express Tribune, August 24th, 2019.